backyard pond pumps and filters
1、Asynchronous motor technology makes pond transfer pump extremely energy-efficient.
2、Premium ceramic shafts and bearings for maximum efficiency
3、Oil-Free cooling means the unit won't leak or contaminate water
BARST

China

35 days

3500 per day

100pcs
Backyard Pond Pumps and Filters:
This pond pump is high-performance and eco-environmental characteristics. Strong impact resistance for long-life performance.
Features:

Asynchronous Vortex Impeller

Premium Ceramic Shaft

Fish Safe Design

Extra-Large Clog Resistant Filter Screen

<iframe width="800" height="450" src="https://www.youtube.com/embed/Vd-LCXOT2ys?rel=0" title="YouTube video player" frameborder="0" allow="accelerometer; autoplay; clipboard-write; encrypted-media; gyroscope; picture-in-picture" allowfullscreen="">

Submersible or Inline Use
Specification:
Max Flow: 1717 GPH
Max Height: 15.4FT
Watts: 150W
Outlet Size: 1 1/4" MPT
Connection for Hoses: 1" and 1 1/2"
Cord Length: 25 ft
Dimensions: (L x W x H) 9.7" x 5" x 7.4"
Warranty: 1 Year

Voltage:120V/220V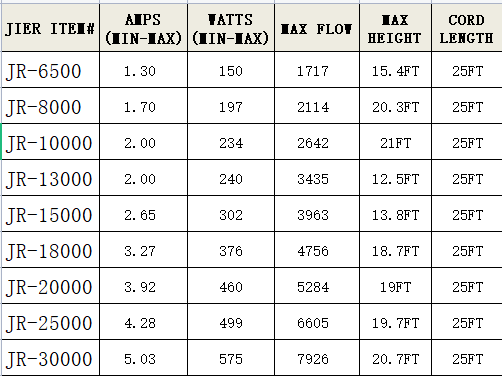 Product details:
1.Resin potting seal to effectively block current.
2.The rubber feet will prevent noise and vibration while in use.
3.Convenient handle design / Built-In Carry Handle.
4.All models feature a 25 Ft. power cord.
Get the latest price? We'll respond as soon as possible(within 12 hours)